Lee más en la página web de la universidad
The Hertie School is an international teaching and research centre of excellence located in vibrant and cosmopolitan Berlin. Exceptional teaching, research and outreach on international and intersectoral governance challenges are the school's hallmark.
Our motto is Understand today. Shape tomorrow. We attract a highly talented student body from diverse national and disciplinary backgrounds—united by a desire to make a difference and to bring about a better future. We offer them a study environment characterised by close interaction with faculty, lively public debates and engagement with current policy developments. In addition, our students have access to the School's global network that includes the London School of Economics and Political Science, Sciences Po in Paris, Columbia University in New York and many other excellent public policy schools worldwide.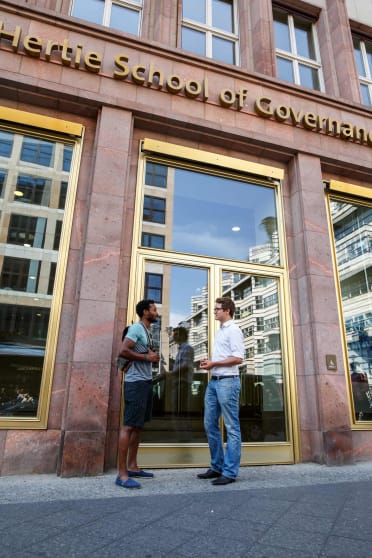 As an ambassador of good governance and public stewardship, the Hertie School has become a hub for top scholars and researchers, as well as experts and representatives from the spheres of politics, business and civil society who contribute to events at the school. Our students actively contribute to these debates and regularly spearhead their own initiatives to foster the public good.
Learn more about the Hertie School from our Leadership
Lugares
Berlina
Address
Friedrichstraße 180, 10117 Berlin, Germany
10117
Berlina
,
Berlina
,
Alemania